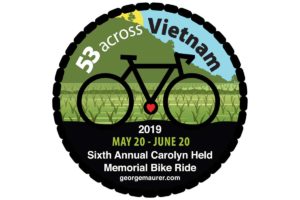 In about ten days, my trusty Surly Straggler bicycle and I will be boarding a Delta flight to Korea, and then connecting to Hanoi, Vietnam, to begin a 30 day solo bike ride across that country. After five of these rides so far, I have to keep answering folks (and reminding myself) when they ask "why do you ride?"
I've been thinking of this a lot, lately, in getting ready to speak at Saint John's University for the National German Exam Banquet. German students from across Minnesota want to know how I've found speaking a foreign language to be beneficial!
My short answer to them will be: "because it's given me the confidence to get on a bicycle in a country like Vietnam, where I'll only be prepared to communicate in a basic way in Vietnamese, and to make my way from one end to the other…" It may not be the answer they are expecting, but it's quiet true. Learning a foreign language has been shown to make a person more flexible and open to other races or cultures. Opening up to a culture allows you to be more flexible and appreciative of other ways of doing and looking at things. Certainly being on a bike for weeks on end, observing, listening, and empathizing has helped me more readily answer the question "why do I ride?"
Seeing as images, music, and sound speak for themselves, I want to roll this highlight video for you from my travels with a Siberian Russian across Sri Lanka two years ago. Watching it all over again makes me excited for what different kinds of encounters (and new ways of looking at and listening) will bring me as I ride once again for a cure for cancer, across Vietnam.